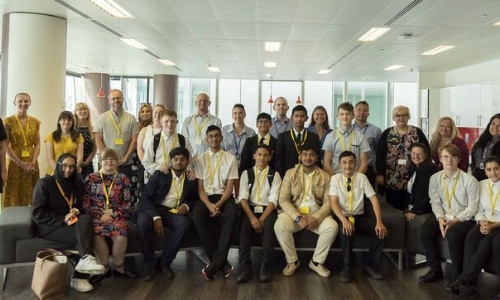 Mock Job Interview day with HS2
Another fantastic day working with HS2. Today we visited HS2 offices in Snow Hill where we were welcomed by a wonderful group of their employees who wanted to engage more with our learners. HS2 provided three excellent sessions:
1) Networking - where learners had the opportunity to ask employees questions about their jobs and use their communication skills,
2) a STEM project which involved building a cost- effective strong train tunnel, and
3) Mock job interviews
There was also a film crew there to interview our learners about their experiences with HS2.
HS2 continues to show a strong commitment to working with schools to promote inclusion and diversity and have provided excellent, fully resourced, activities.
Their staff have been superb with our learners, treating them as equals, and been encouraging and complimentary at all times. They have also commented how surprised they have been with the skills, abilities and confidence of our learners and how much they are learning about working and communicating with deaf people.
Business and Education links must be beneficial to all involved and we are pleased to contribute to the deaf awareness of HS2 staff and for them to practice how to interview a deaf person and use an interpreter too.
Thanks to our HS2 links Richard Winter and Julie Venn-Morton and all the fantastic staff at HS2 for creating such fantastic opportunities and for being so interested in inclusion. What you are doing is so very important to the development of our learners and their understanding of the world of work.
Next it will be work experience and then who knows? Our first HS2 employee perhaps? We really hope so.